SETTING OUT to SEE HOW FAR WE'VE COME
For SET, 2018 marked a change in direction.  After providing funds for thirteen communities to build solid schools, SET's  directors decided to help solidify primary teachers' skills.  As well as running literacy training workshops with teachers, SET hired Jean-Paul Mlope as a mentor to support the teachers in the teach-the-teachers pilot project in half of SET's schools. For more information, please click here to read our previously posted news article: "The ABC's of SET's Vision" .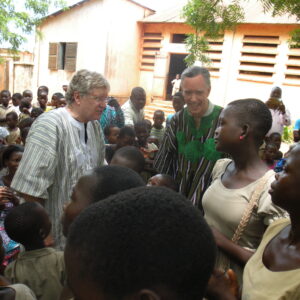 In late June and early July, Don Barclay, SET President, and Simon Carette, SET Director, will travel to Togo to meet with Jean-Paul Mlope, SET's pedagogical mentor, to assess the success of its teach-the-teachers project. To do so, 520 CP 1 (grade one) and CP 2 (grade two) students' literacy skills will be evaluated.
Tools developed by SET members Serge Akpagnonite and Angèle Dadagan Aklah (Togolese-born literacy teachers) will be used for evaluations. Togolese educators have been hired to do the testing.  Of the thirteen SET schools testing will take place in the six pilot project schools as well as in the remaining seven schools. The data from all this year's testing sites will be compared. This data will also be compared to data from tests done in pre-Covid years.
To gain a further sense of how far SET has come in improving primary grade literacy, Don and Simon will talk with school directors, teachers, and intern teachers. Because parents' committees assist in running each of the schools, Don says, "We're very curious to also hear what those parents have observed around their children's literacy progress."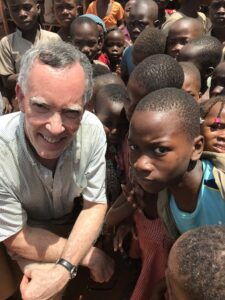 Whatever the testing results reveal, SET is "in", as Simon says, "for the long haul." So many factors affect the outcomes, not the least of which has been the Covid pandemic.
"We will be having in-depth discussions with Jean-Paul about the progress the teach-the-teachers program is making.  Most importantly, we will be asking him what further assistance SET can provide to the program," Don explains.
"And," Simon adds, "what we as the directors of SET might do differently to ensure the long-term success of teacher literacy training.  In every sense this program belongs to the Togolese teachers, who like us, want to see their students go as far as they can."
In their ten days of visiting every one of the thirteen schools, Don and Simon also plan to assess the condition of each building. While testing is being done, they will look at the schools' needs for repairs, a commitment SET has made throughout the years and has been fulfilled recently in Démocratie, Agbelouvé, and Amoussime.