TOGO – WHERE…AND WHY?
One of the world's poorest countries, Togo is located in West Africa. It is a relatively small country on the continent and is bordered by Burkina Faso to the north, Benin to the east and Ghana to the west. Its southern border meets the Gulf of Guinea, which is part of the Atlantic Ocean.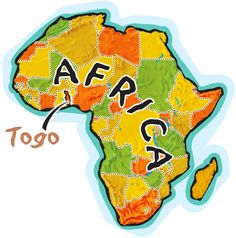 Despite its size, more than six million (6,000,000) people call Togo home. With only a 57% literacy rate among the Togolese people who are over the age of 15, more than 125,000 primary-aged children not attending school and approximately 62% of the population living below the poverty line, the need for change to create a better future for the people of Togo becomes clear.
The foundation that education provides can be the beginning of the positive change that Togo needs. But the country doesn't have the resources to create and support this vital school system. The current small, thatched-roof school structures need to be replaced with buildings that keep children protected from inclement weather and offer proper classrooms. Schools need to be built on sites in communities that don't have schools at all. Schools need teachers who can earn a living from their profession; both the students and the teachers need supplies.
Togo – and the Togolese children – want to create a better future. They need our help.
"Water gives life; but education gives hope."
Togolese proverb